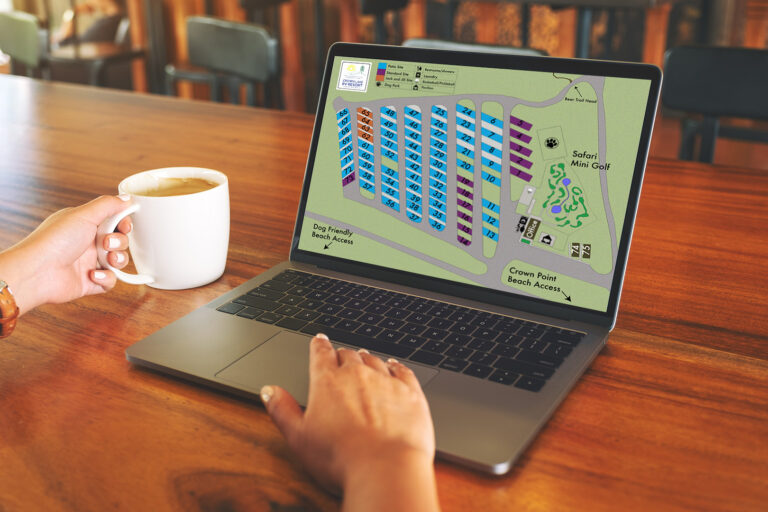 Interactive maps allow guests to see images of individual campsites and navigate the campground amenities with the click of a button. CampSite 360 has been leveraging interactive maps since launching in January 2020; to date, they have been only available within the virtual tour. We are excited to share that interactive maps can now be embedded into our customers websites. So what are the benefits of an interactive map, and how do they look on your website? 
What is an interactive campground map?
An interactive campground map takes an existing PDF or JPG site map and enables campsites and amenities to be clickable and interactive. Allowing guests to quickly engage with a campground and begin seeing what campsites look like. The interactive map is similar to what many online reservation software provides within their applications but with a few differences. 
Interactive maps link to large panoramic images – Unlike reservation software, a CampSite 360 interactive map will show users a 360° view of a campsite and the surrounding area. No longer are you restricted to small cropped images that provide little detail beyond the the campsite pad. Now users can see what sites and amenities are around that specific site. 
Site-to-site navigation – Once users navigate to a campsite or amenity, they can continue navigating to adjacent campsites with simple-to-use click-and-go navigation. Because all interactive maps are linked to a virtual tour, the user does not need to return to the campground map to navigate to additional sites. The tour navigation allows guests to continue looking through the campground and select the perfect site for their vacation. 
Embedded onto your website – CampSite 360 interactive maps are embedded onto your website. Campgrounds can choose to have the new interactive map replace their existing campground map while allowing users to download a copy to their PC or mobile device. Now you can capture a guest's attention right from the campground map and make it easy for them to find the campsite that best fits their needs.
How can an interactive map help my business?
Guests are looking to make quick decisions when browsing for a campground to stay at. The sooner you can provide the reason for their stay or answer their questions, the more likely you will convert them into customers. People visual beings and process visual information much quicker than words. Interactive maps put your sites and amenities front and center and give guests the confidence to book their stay. So what are the other ways a virtual tour and interactive map can help your business?
High-quality images of your campground – The more high-quality photos you have of your campsites and amenities, the more bookings you will generate. Online reservation companies struggle most with getting pictures of campsites. They do all they can to provide quality images because they have seen that campgrounds with campsite images generate more reservations. A virtual tour shows all the unique and amazing features you have to offer. 
Increased revenue through nightly rates – Adding a virtual tour can help you to increase your nightly rate. Guests are willing to spend more money to stay in a place they have confidence and are convinced they will have a better experience. 
Increased revenue through site lock fees – Site lock fees are a great way to increase revenue. Implementing this can result in 10's of thousands of dollars in increased revenue. The most common complaint about site lock fees is people being frustrated with the site they locked in. With a virtual tour your guests are better educated on the campground and specific sites resulting in more frequent use of site lock fees. 
You can check out our additional interactive maps here. If you would like to learn more about CampSite 360, virtual tours, or interactive maps contact us today [email protected]